This is not bad.
I think it's a surprisingly interesting sounding song (you know, by KPop and more especially U-Kiss standards). I don't think it's grab you by the throat awesome (like Neverland) but it can stay.
Most of them look good, although I have a few words for whoever dressed Dongho (mostly, don't sex him up, he's a child). But I also think Dongho's style doesn't so much match the rest of them. Everyone's in bold patterns and he has that asymmetrical bullshit style going on (I have no judgements). And I think we should take a moment to recognize that Eli looks much less like a butch woman in this video. 
But otherwise, I really enjoyed Hoon's voice in this one (which is kind of new). He convinced me not to hate the song right away. And Kevin has some really great parts- both singing and dancing (I liked his dance with the woman). 
And I didn't take offense to how they used backup dancers (I'm looking at you Big Bang). 
Solid work U-Kiss. Solid work.
Oh sir
This is so cute I want to keel over.
And then you're gorgeous.
And then there's this sort of thing:
Song Dongwoon: Assaulting my misandry tendencies.  
…amuses me. Immensely. Now I'm imagining Kyuhyun singing alone (and crying just a little) to Beautiful and Heechul jammin' to some Avril. And I want to slap Siwon across the face (even more than I wanted to before). There's also a JPop version of this. I don't know if their taste is JPop is similarly hilarious, but I'm thinking it might be. 
Holy shit! He is the most fabulous person (with the exception of a couple drag queens) I have ever seen.
Also you need to see a version where you can see his legs. Need to.
Feelin' fangirly!
So apparently I am in a fangirly mood! I blame watching an episode of Hello Baby (with Shinee, of course) last night.  So now I'm going to be all kinds of fangirly towards my dear Manly!
What with it being his birthday and all (at least in my time zone).
(Get it? Because he is clearly thrilled that I am talking about him. Right?)
But anyway, I love this guy!
I love him being lovely with the rest of Super Junior.
(He looks like one huggable man!)
And I love him being bullied by the rest of Super Junior.
And I love him looking like he is the sweetest thing ever with women.
And I really love him as a woman.
I love him being adorable (both intentionally and not).
And I love him being whatever it is you would call this.
And this (besides funny and unconvincing).
And I love that he wicked good at just about everything.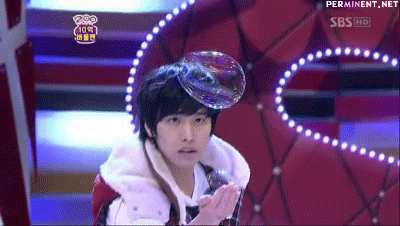 Except perhaps convincing us that he is not actually painfully self-conscious. Wait! I didn't say that.
Anyway. I love him!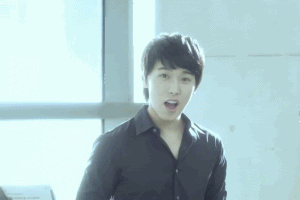 Speaking of…
(Also, Wookie=fierce)
Have I mentioned I love them?
All I have to say (you know, besides the laughing and squealing…):
Nutcrackers… (dirty!)
Aoora isn't wearing any creepy fake bones around his neck.
Woosang has a chain sash…
Hello new sirs.
So suddenly, it seems to me, there are a ton of new boy bands. And what's more, I like them. What's with that? Anyway here are three gems of groups.
MyName
Message is their song. What an awesome text message alert this song could be. Also the lyrics make me laugh. So desperate. But I the song and I like the dance. I'm not crazy over it, but I think it's fun.
Taken
Young Boy is an awesome song. And by awesome, I do not in fact mean awesome. Which is not to say I don't love it, because I do. I mean the "greatest Korean wolf" tells me I have to. Also that terrible noise in the background (like at the beginning of the song). I love it. It makes me laugh every time. Also it is a great noise to make when you are feeling awkward or frustrated or angry or sad or almost anything else negative. It makes me feel so much better. Try it! No really, try it.
The whole young boy thing is a bit creepy, but at least the equivalent young girl is used in the song.  But I am confused as to why a young girl would act drunk around a young boy though.
But more importantly, what is baby TOP doing here? (Just in case you don't know who I'm talking about, the guy @0:17. You know, the one that looks just like TOP).
AA
I am in love. I am in love with this song, I am in love with this dance, and I am in love with this band.  
But does Woosang remind anyone else (forcefully) of Dr. Frank-n-furter from Rocky Horror Picture Show? You know, this guy:
Which makes me love him more. (Of course.) And isn't he the one that choreographed this dance? I love that it is clear he was born to move that way. They are all so fierce! Also I love Ho-ik's strange but beautiful voice. And I already want to be Kimchi's best friend. They had me at that first unexpected body wave…
Now, I don't really care for 김현중 (Kim HyungJoong).  It's probably because his videos have been generally filled with sexist bullshit and because the two dramas I've seen with him have portrayed him as an awful, awful person (Boys Before Flowers and Playful/Mischievous Kiss).  I've got a whole rant about his dramas, but that's not what I'm writing about today.  
Instead, as I was watching this 'Lucky Guy' video for the first time, I wrote down my impressions.  Enjoy.
1:07:  I hope she's actually a serial killer
1:28: Fine, a serial killer who can dance.
1:48: He's such a tool.
2:08: Maybe he'll lose all his money?
2:25: Bad hair color choice, dude.
3:05: So the old money and a car makes a man stereotype
3:15: YES!  She was a bounty hunter!  
3:41: Why are you still happy?  Obviously she likes your money, not you.  Which begs the question of why she arrested you instead of just knocking you unconscious and stealing all the gold you apparently just won.
End: This video was really stupid…
There you have it folks.  Wow, I really do not like this guy, however lucky he may be.  
Dear Mr Park, 
Stalking is not OK.  It does not matter if you find her attractive, can dance well, or eventually get up the gumption to speak to her: taking lots of photos without her consent and making a huge mural of them is downright creepy and inappropriate.  Further, I don't understand why you seem to be brimming with confidence about all of your actions yet feel the need to avoid speaking to her, ever.  Mind you, the headphones and recorded song was a cute way to ask her out, but why the creepiness before and after that?  
Sir, I am disappointed in you for two reasons: you are perpetrating the myth that stalking can be cute or even romantic and, given your fame, you are spreading that message to a lot of probably impressionable youth.  
Boo, sir, boo.  
Tatum